SHANSHUI: A COSMOTECHNICS
Future Media/Art Manifesto is at the core of Tribute 2018, and includes the exhibition SHANSHUI: a Cosmotechnics, and Century: a Proposal.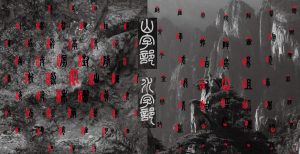 The first part of Future Media/Art Manifesto is the multi-sensory large-scale installation SHANSHUI: a Cosmotechnics.

The exhibition SHAN SHUI: a Cosmotechnics occured in the Rhine Palace, the original location of "Exposition Chinois d'Art Ancient et Moderne". The exhibition uses large scale image installations to describe the unique Chinese experience of mountains and water. 
The whole work consists of 29 screens. Three 8 meter tall screens are a new take on the traditional Chinese scroll painting, displaying moving images of lofty mountain peaks. These projections are accompanied by six smaller 2 meter tall screens, displaying moving images of water cascades and boulders. Finally, 20 small screens describe the wandering movements of travelers in the mountains.
All together, these screens partition and emphasize the atmosphere of certain elements within the Shanshui universe. Traditional Chinese landscape painting is deconstructed into its constitutive elements, which allows these elements to be investigated with technical analytical methods. The English translation of the exhibition's name, SHANSHUI: a Cosmotechnics, emphasizes this exhibition's attempt to break down the Shanshui universe into its primary elements and also to research the psycho-physiological effects these elements have on their viewers.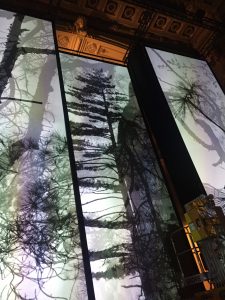 A reading space was created in the Rhine Palace called "What do we have in the mountains?" consisting of catalogues, animations, paintings, and relevant ancient poetry.  This space helps illustrate the connections between Chinese poetry, Chinese characters and traditional Chinese landscape painting. 
But as artists of the work Yao Dajuin and Gao Shiqiang put it, the exhibition is not intended to create full literacy of Shanshui, as most contemporary Chinese have themselves already forgotten how to appreciate it, but to evoke a new way of sensing and reflecting on a lost era. This immersive site- specific video-sound installation is intended to open new fields of communication.
Artists Dajuin and Shiqiang argue that such a space is a meeting point where the aesthetics and world view of both Chinese and Europeans can interact with one another, and where the audience can explore together the significance and meaning of Shanshui.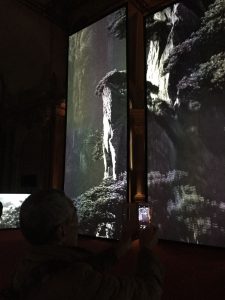 This exhibition's use of sight and sound media immersed the European audience in  the awe-inspiring deconstructed elements of mountains and water, allowing the audience to feel psychologically and emotionally transported into vast and lonely spaces.
Vice President of China Academy of Art and co-curator Gao Shiming spoke about the motivation behind the exhibition SHANSHUI: a Cosmotechnics, describing it as an attempt to overcome human perspective and a create a parallel universe which is focused on the natural world.  For Gao,"Shanshui is a medium for once again opening up our imagination about this universe."
Participating Artists:
 GAO Shiqiang
MOU Sen
GUAN Huaibin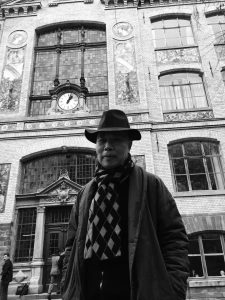 Sound Artist:
YAO Dajuin