21 Nov

展讯:《意见》——2014总体艺术工作室台湾考察汇报展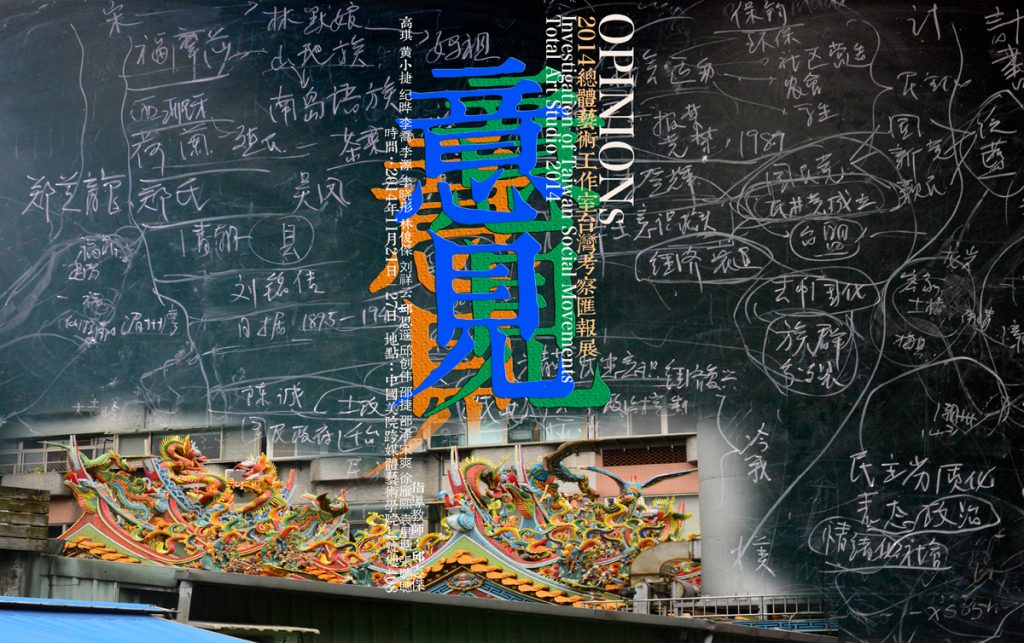 展览地点:中国美术学院跨媒体艺术学院4号楼408
展期:2014.11.21-11.27
指导老师:邱志杰
艺术家:高琪 黄小捷 纪晔 李乔 李源 李晓彤 林俊杰 刘祥云 邱思遥 邱创伟 邵捷 邵泽 宋爽 徐雁熙 袁星塘 张聪聪
特别鸣谢:惠干源
OPINIONs——Investigation of Taiwan Social Movements, Total Art Studio 2014
Location:#408, 4th Building, School of Inter-Media Art, China Academy of Art
Duration: 21st-27th Nov. 2014
Advisor: QIU Zhijie
Artists: GAO Qi/ HUANG Xiaojie/ JI Ye/ LI Qiao/ LI Yuan/ LI Xiaotong/ LIN Junjie/ LIU Xiangyun/ QIU Siyao/ QIU Chuangwei/ SHAO Ze/ SHAO Jie/ SONG Shuang/ XU Yanxi/ YUAN Xingtang/ ZHANG Congcong
Acknowledgement: HUI Ganyuan
人民共和65年甲午,民国103年,西元2014年,10月9日到24日,跨媒体学院总体艺术工作室师生一行25人,以自由行陆客身份在台湾地区考察旅行。
期间大量接触台湾各类社会运动的参与者与研究者。分别在台北接触太阳花运动的参与学生、小剧场运动的核心人物,亲历反核四电站和废除死刑运动现场。在淡水社区营造运动亲历者、抗议高房价的巢运组织者。在台东和屏东,深入接触原住民运动的直接参与人物及阿美族、卑南族、排湾族原住民艺术家。在绿岛第一次触碰冷战议题,继而在高雄展开冷战地景踏访即研讨,涉及眷村记忆、台籍老兵问题、大陈村族群。在金门,更加直观地触及冷战期间的心战现场及后冷战旅游文化。24日,由金门乘船返回厦门,在厦门参与海峡两岸影像艺术生产者的交流及闽台文博会。回杭州后,于11月8日,参与执行台湾艺术家吴玛悧在西湖上实施的"新鸳鸯蝴蝶梦"行动。
今天的台湾是意见缤纷的场所。历史背景和人口构成的错综,统派、独派、埋头发财派;"本省"(其实是闽南人)人、外省人、原住民、海龟、洋人;台商、陆客;各自有信念,凡事有意见。族群隔离撕裂社会,意见纷争喧嚣,每个人都是意见的使徒,或奴隶。这个世界是一个意见的市场和观念的擂台,台湾社会尤其如此。我们用考察社会运动现场和遗址作为线索,串起来的是各种意见的斗争成长史。在每个领域中有多少种意见,这些意见是什么关系?这足于使我们勾画一张意见的地图。每个意见背后都有信念,这些信念如何成形,都有历史。再进一步,同一个信念为何长出不同的意见?事实和信念如何互为因果和基础?最后,意见如何表达?如何自我推销,如何自我合法化?如何互相污名化?意见之间如何互相说服?被压制的意见如何转化和死灰复燃?个人在大时代的洪流中如何沉浮飘荡,生生死死,记住什么,遗忘什么?悲情如何淹没理性,选择又如何回归利益。而这一切,又催生出怎样的历史叙事,怎样的选举文化,怎样的宗教现象和大众媒体景观?
我们特意选择了双十节前夕到达台北,在台湾期间,适逢九选合一之前的选举造势和食用油事件爆发,除了海绵一般地吸收信息,礁石一般接受历史的海浪捶打,密集地交谈、询问、倾听,每天百感交集,时而搞笑,时而泪奔。最后,原有的想像和成见消融在海峡的浪和太平洋的风中。同时,在台湾,我们一直也夹带着关于录像艺术的课程和讨论:影像如何真实以及如何幻想,如何表态以及如何记忆,叙事和记录何以到达现场,个人制作何以逃离产业传统,等等。
最后呈现给大家的是一个意见的剧场。这个剧场有舞台,有布景,但是它没有脚本,它只有一群天才的演员和一个蹩脚的导演。它的高潮尚未到来。
In 2014, the 65th Year of the People's Republic of China, the year of Jia Wu in the Chinese traditional Lunar calendar, and the 103rd year of Republic of China, from October 9th to 24th, the teachers and students of the Total Art studio, the School of Inter-Media Arts, of the China Academy of Art, 25 people altogether, organized "The Freedom Walker" project to make a research expedition in Taiwan as tourists from the mainland.
During the tour, we contacted a large number of participants and researchers from all kinds of Taiwanese social movements. In Taipei, we met students who participated in "The Sun Flower Movement" and key figures of "The Little Theatre Movement". We also visited the exact areas where an anti-nuclear power plant protest and a movement against the death penalty took place. In Danshui Town, we met the architects and eyewitnesses of "The Community Reconstruction Movement", and the organizers of "The Nest Movement" which fought against increases in housing costs. In Taitung and Pingtung, we contacted the leaders and members of "The Original Resident Movement" directly. We met some artists from such local minorities as the Amis, Puyuma, and Payuan. During our visit to an old political prison on Green Island, the students were introduced to Cold War issues for the very first time. Soon after, we went to Kaohsiung, where we investigated the Cold War landscape.  Our investigation involved local residents and their memories of this land; we touched upon Taiwanese veterans' issues and examined the immigrants' community of Dachen Island. In Kinmen, we experienced the "psychological warfare" of the Cold War, and observed the post-Cold War tourism culture. On Oct. 24th, our team travelled from Kinmen back to Xiamen, to participate in the "Fujian-Taiwan Art Expo" that gathered video artists from both sides of the Taiwan Strait. On the 8th of November, we returned to Hangzhou to take part in "The New Love Story Dream" developed by Taiwanese artist Wu Mali on the banks of the West Lake.
Today, Taiwan is an arena of multiple opinions. Its historical background is intertwined with the very structure of its population. There are people who stand for union, and people who are against it; there are those who just want to make money by any means; "local" people (who are actually people from Fujian province); people from other provinces; people who used to live here; "turtle" people who have been abroad then returned; foreigners; businessmen; and of course, tourists from mainland. All of them carry their own beliefs and opinions. In a society divided into several groups, where arguing controversial opinions never ends, everyone is an advocate of their beliefs, or perhaps merely enslaved by them. The world we live in is a marketplace of opinions and a boxing ring for ideas; Taiwan represents this better than any place else. We used the exact areas of these social movements and memorial sites as a sort of mental thread, which we needed to tie together the history of political mind games. There are many different opinions within this framework, how are they related to each other? This question made us draw a "Map of Opinions". There are some ideas and beliefs behind these opinions, and the development of these ideas is conditional on history. Why do the same ideas become source of many different opinions? Which came first, the ideas or the reality? How should an opinion be expressed after all? How does it promote itself, how does it legitimize itself? How do different opinions invalidate each other? How can different opinions change the minds of their opponents? How can the suppressed opinion rise from its ashes? How eras of greatness change the personal lives of people, their lives and deaths? What should be remembered, what is to be forgotten? How can a righteous spirit dwell in reason, when people choose to look out for themselves? What kind of historical narratives, election cultures, religions, and mass-media were incubated by all these influences?
We chose to go to Taibei before the Taiwan National Day, therefore we had a chance to observe the election campaign, and the "cooking oil" scandal. We devoured all sorts of information, with the same voracity that we did with the local seafood; not only have we seen the marks of storms on the sea stones, but the marks left behind by historical events. We spoke as close friends would, asked many questions and listened to all of the answers. We were moved by a mixture of feelings, laughing one moment and crying another. In the end, all our previous guesswork and prejudices were washed away by the waves of the surf, and blown away by the winds from the Pacific Ocean. Simultaneously, we brought our ideas about video art to Taiwan, our classes and discussions; how video can embody reality as an illusion, how it can express and remember, how narration and documentary uses local spaces, why individual creation gets away from industrial traditions, and so on.
In the end, we present you a theatre play of opinions. This play has its stage and scenery, but has no script; only a group of talented actors and one poor director. The dénouement of this play is still to come.